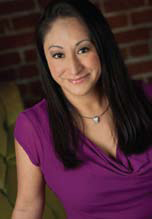 Griselda Barajas is recognized in Sacramento as a prominent and dynamic business leader. As the successful owner and CEO of Griselda's Ventures Inc. she has continued to expand her business while continuing to be a strong advocate for small business owners and minorities in the community.
She began her successful career at the age of 21 by opening Texas Mexican Restaurant with $40,000 she borrowed from credit cards. With her mother's recipes in hand the restaurant became a Sacramento institution and helped her expand in to the ever competitive catering market.
With all her success, she has never lost sight of giving back to the community that has embraced her and her family or her employees by organizing them to give them the benefits and opportunities they deserve. She has become a vocal and active advocate for small business owners and issues that affect the Sacramento community. She has donated her time and resources to innumerable local non-profit organizations, spanning everything from the arts to education.
She has been awarded the Small Business Advocate of the Year by the California Chamber of Commerce and Business Woman of the Year by the California Hispanic Chamber of Commerce. Griselda is regularly featured on local television demonstrating her cooking techniques and sharing with Sacramento her love of food, style and culture. She has been featured in such publications as USA Today, Sacramento Business Journal, Latina Style, Sacramento Bee, Sacramento News and Review, Comstock's Business and Sacramento Magazine.